Regular price
$343.30 USD
Regular price
Sale price
$343.30 USD
Unit price
per
Sale
Sold out
'Mountain OG Giraffee Ocean Jordin II' - Limited Edition print
Artist: Kristjana Williams
Medium: Giclee print
on matt smooth fine art cotton 300gsm
Signed and numbered by the artist.
Edition size: Limited edition of 195
Paper size: 60 x 80cm (medium) | 85 x 120cm
Year: 2022
The turquoise globe, Earth's unique sphere, glows with warmth and vivacity. A pair of giant giraffe stand like beacons to the poles, their aqua hue reminiscent of the sky reflected by the oceans. Here, water pervades the land, represented by the spiky tips of the mountain ranges of the world; majestic rock forms needling towards the sky from their misty foothills. The Diablo of the Americas, Alps of Europe, the Pegu and Himalaya of Asia, and the Great Divide of Australia. A fishing vessel marks its briny path through the pacific, passing sea turtles and whales, behemoths of the deep. An ornate balloon makes its exploratory journey across the seas, carrying its original cargo of animalia - the peacock and chameleon symbolising re-growth and regeneration as well as an ability to adapt to their surroundings. Giant palms soar skyward from North and South, watchful over the heroes of terra firma and the subterranean world beneath.
Care Instructions

Your art is precious please handle with care. Always wear gloves when handling the paper. When removing your art print from the tube please be aware that paper can crease.
Share
View full details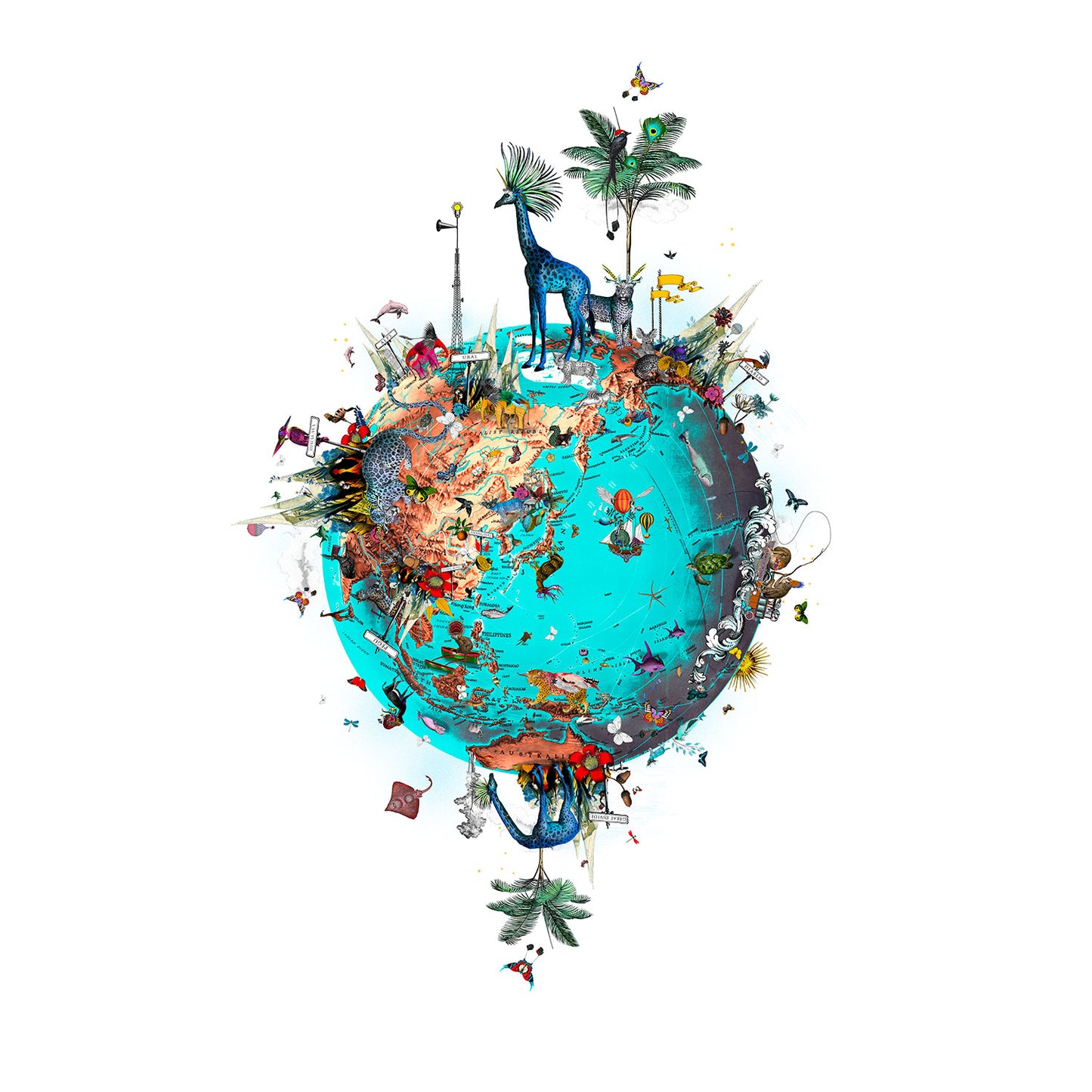 Fall in Love with art...

Please contact us at artontap@tapgalleries.com for our bespoke framing service & delivery options.

The TAP Galleries art collection...

At TAP Galleries we love choosing a unique collection of independent artists, enabling us to bring to you an exciting online limited edition art print store.